Palm Beach Portal Login Guide – www.mysdpbc.org
The School District of Palm Beach County has come up with the District's Portal, My SDPBC, to provide a single point of access to all the applications and information. This new District Enterprise Portal acts as a one-stop shop for the SDPBC employees for all their web-based software ad employee links. By logging in to Palm Beach My SDPBC Portal Account, they can access e-learning for their training, find an application, manage the tiles, use email, and many more
About SDPBC:
The School District of Palm Beach County, in short SDPBC, is the 10th largest public schools district in the nation and the 5th largest in the State of Florida. A total of 180 schools from elementary, middle to high, adult, and alternative schools are operated under this district. The total SDPBC enrolled students speaking 146 different languages and dialects is over 197,000. It is also the largest employer in Palm Beach County with over 27, 100 employees including 13, 080 teachers.
Palm Beach Portal Login Process:
Palm Beach My SDPBC Login Portal represents a single window that simplifies everyday web challenges and helps the SDPBC employees put together their information for convenient 24/7 access.
My SDPBC Portal works on any device from a smartphone or tablet to a personal computer or Mac. Also, you need to have the login credentials registered with your School District of Palm Beach County Network and open a web browser on any compatible internet-connected device. Then, you may take the steps provided below for the Palm Beach Portal Login.
Visit the official School District of Palm Beach County website at www.palmbeachschools.org
Click the "Sign In" link found at the top right corner of the homepage to reach the My SDPBC Portal.
Or, you can go to the Palm Beach Login Portal directly by visiting www.mysdpbc.org
Enter your SDPBC Network Username and the Password linked to it in their fields in the middle of the page.
Click the blue "Login" button to access your Palm Beach My SDPBC Portal Account.
Now, you can access all tools, content, and products of the Palm Beach Login Portal system that will give you more information about your work. Plus, enable you to perform the following activities.
Replace the default home screen with your preferred one
Add your tiles to your Palm Beach My SDPBC Portal Account homepage as well as edit and customize them.
More than one easy way to look for a tile within your portal account and get any applications in seconds
Move the tiles and arrange them to any location on your screen
Add, change, and manage your favorites to the home screen of your Palm Beach Login Portal Account.
Change the size of the tiles for better screen fit and work
Access the self-service with PeopleSoft tiles and your applications like email, etc.
Also Read:
Hilton Honors Login Process at www.hilton.com
Manage your AT&T Digital Life Account
Access to Identity Guard Member Account
My SDPBC Login Portal Reset Password:
Do you need to change or reset the password of your Palm Beach Portal, My SDPBC Account as you forgot the info or have some difficulties logging in? You always have the option to set a new one and obtain your Palm Beach My SDPBC Login Portal Account Access again. To initiate the process, all you need to do is
Go to the Palm Beach My SDPBC Login Portal, www.mysdpbc.org
Select the "Forgot/Change Password (Employees and Third Parties Only)" link under the entry fields.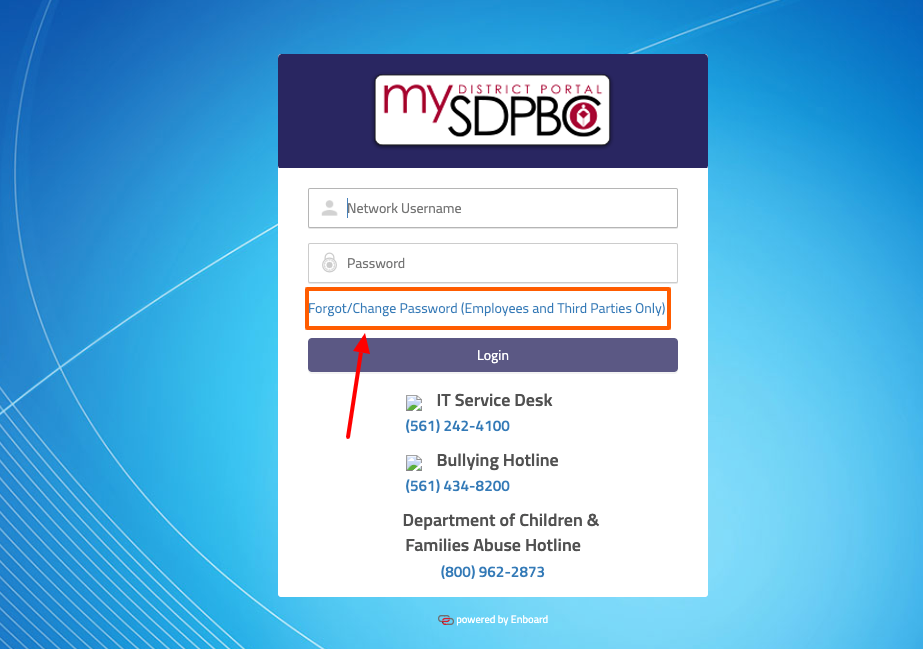 Input your Network Username in the blank field of the Password Reset page.
Click the "Next" button to verify your identity.
After your identity is verified, you will be directed to reset your Palm Beach My SDPBC Login Portal Account Password.
Contact Information:
Palm Beach County My SDPBC Login Portal IT Service Desk Phone Number: 561-242-4100
Reference: