www.walmart.com/giftcards – Check Your Walmart Gift Card Balance
Walmart enables its Gift and eGift Card users to check how much balance they have left on their card account in more than one way. To check the Walmart Gift Card Balance they can use online, over the phone, or visiting a Walmart store.
Walmart, formerly named as Wal-Mart, is one of the biggest retailers and the largest corporation in the world. This American multinational retail giant operates the business under 58 banners with more than 11,500 stores in 27 countries. They also runs the e-commerce business in 10 countries.
How to Check Walmart Gift Card Balance Online
Online is the most perhaps the fastest, easiest, and most convenient way of balance checking that you can do anywhere anytime from any web browser in a few simple steps. To initiate the procedure, have your Walmart Gift or E-Gift Card ready and take the following steps provided below.
Visit the official Walmart Gift Card Page at www.walmart.com/giftcards and click on the "Check Card Balance" link found in the lower right of your screen just below the first section of the page.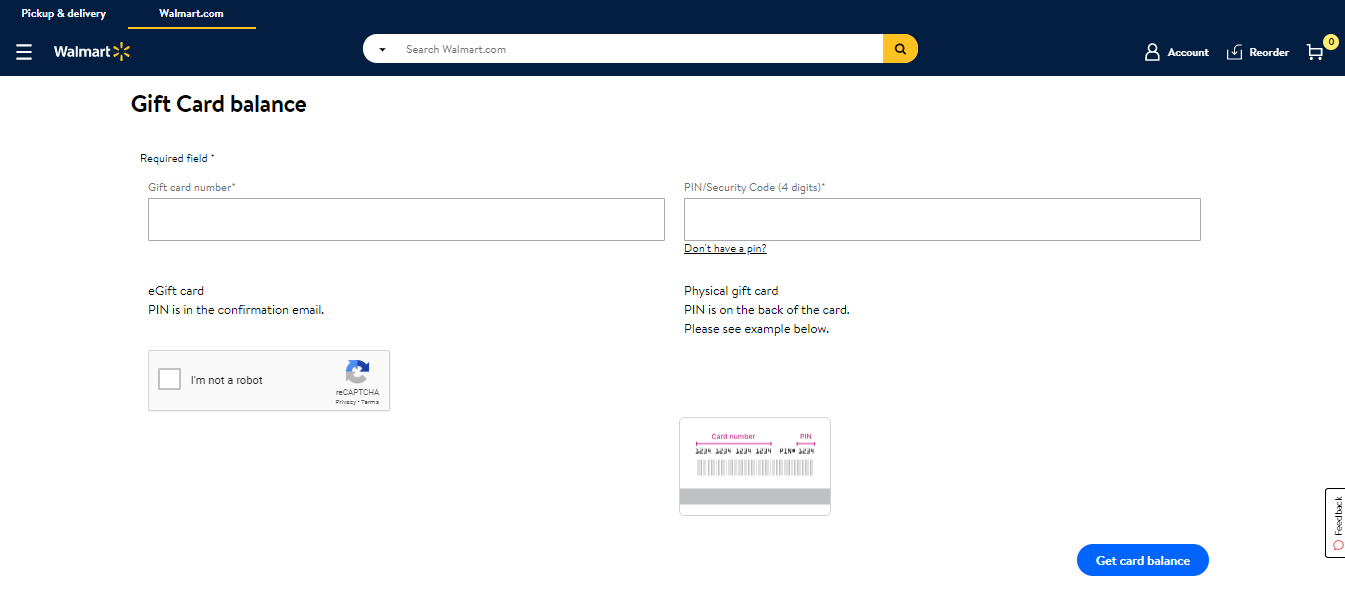 Enter the 16-digit Card Number from your Walmart Gift or eGift Card
Enter the 4-digit PIN or Security Code in the field next. (See the example below the entry field if you have a problem to locate it)
Check the 'I'm not a robot' box security feature.
Scroll down to click on the "Get card balance" button.
Walmart Gift Card PIN
A physical Walmart Gift Card has the PIN on the back of the card in the bottom right corner under the silver scratch-off area. For e-gift cards, it can be located in the confirmation email.
The users of plastic Walmart gift cards that do not have a PIN are unable to check their account balance online. Without a PIN, they cannot even use the gift card online at walmart.com; they are only allowed to use it in-store. In that case, they can trade it for a new Walmart Gift Card with a PIN at any Walmart or Sam's Club location.
How to Check Walmart Gift Card Balance by Phone
You can check the available amount on your Walmart Gift Card or E-Gift Card. Just call and provide the requested information as per instructions and hear your gift card balance.
Walmart Gift Card Balance Check Phone Number: 1-888-537-5503
How to Check Walmart Gift Card Balance In-Store
You can also go to your nearest Walmart location to check your Card Balance.  To find a Walmart store near you, visit the official Walmart website www.walmart.com and click on the menu icon on the left corner of the page. Select the "Store Finder" under 'Local Store from the sidebar. Then enter zip code or city, state to set location, or find a nearby store.
How to Purchase Walmart Gift Card Online
Walmart offers a variety of Physical Gift Cards and Electronic Gift Cards from its own brand name as well as other brands. They also sell prepaid gift cards from Visa, Mastercard, and American Express. You can easily use this card both in store and online. Here a brief guide is given below to initiate the Walmart Gift Card purchasing procedure online.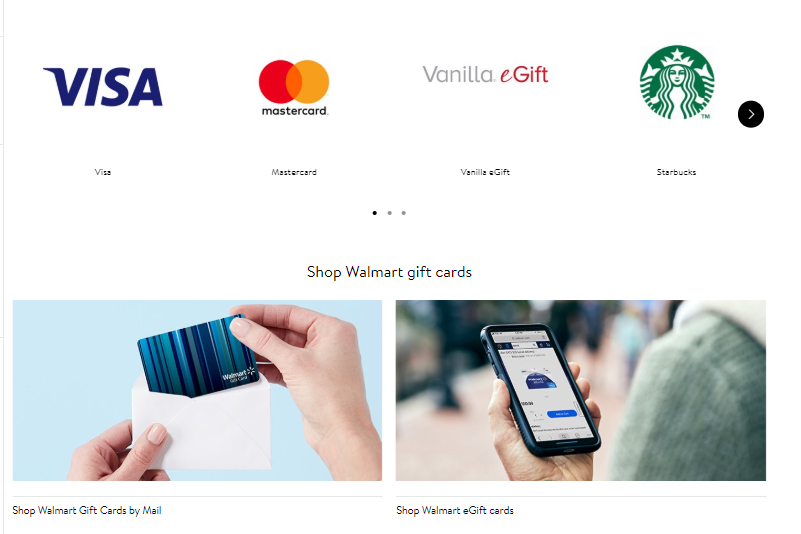 Click on the "Plastic Gift Cards" or "eGift Cards" link in the lower of the screen or scroll down a little and select a specific category from the list.
Entering the designated webpage, select a gift or e-gift card as per your choice and click on it.
On your preferred gift card page, choose a card amount and select the quantity.
Provide the Recipient's name, email, sender's name, and your message in their respective fields for e-gift card ordering.
Click on the "Buy Now" to pay and check out or "Add to Cart" to purchase another card.
After placing an order your Walmart Plastic Gift Card will be shipped and delivered within the time based on the available and selected shipping options.
The e-Gift Cards will be directly sent to the recipient's email inbox within 2 days. If it has been over 48 hours since the order and the e-Gift email is not sent, check the spam or promotional folder. If you still not find it, go to find order or check whether the address you used is correct.
Walmart Gift Card Activation:
For an order of 25 Walmart plastic gift cards or more and an order of$250 or more, the users need to activate the card. You will receive an email with an activation password and instructions.
After activating, you can use your Walmart Gift or E-Gift Cards in Walmart stores, Sam's Club location in the US, and Puerto Rico.
To make online purchases, you can use up to 5 gift cards at one-time or combining with other gift cards. Payment methods can be credit or debit card and or cash.
If the order total is less than the amount on your gift card, it will remain on your card account for future purchases. You can check the balance at any time online or other ways mentioned earlier.
Walmart is not responsible for any damage of your card. This card is not replaceable too.
Read More:  Join Blood Center Summer And Redeem Gift Card
Contact Information
Walmart Gift Card Customer Support Number: 1-800-411-7942
Email Address: giftcards@walmart.com
Reference: